We treat our clients with honesty and transparency, while delivering affordable and gentle care.
When you need us, we are here. We strive to give you control of your dental care by informing you of the pros and cons of each treatment option.
We appreciate that you're busy, so we open early and close late that if necessary, you can get an appointment outside of the main business hours. Saturday appointments also can be arranged.
Child Friendly
We want children to feel welcome and safe from the moment they come in our door.
We offer special 'goodies' for younger children and invite all youngsters to contribute artwork to our colourful Community Wall in reception. We have colouring-in books, paper and pencils to keep them busy while waiting. We've also got fun story books about visits to the dentist and are more than happy if children want to bring a favourite toy to an appointment.
Emergency Appointments
Sometimes you need a dentist NOW. We reserve spots in our appointment diary daily to accommodate emergencies.
It doesn't matter if you haven't been to us before. We can help.
Comfortable and Safe
Sundown Family Dental is a welcoming kind of place. You'll be met by friendly staff and a calm environment.
Safety is a priority for us, and we strictly adhere to Australian Dental Association standards and guidelines for infection control.
— CUSTOMER SERVICE —
HOW CAN WE HELP YOU?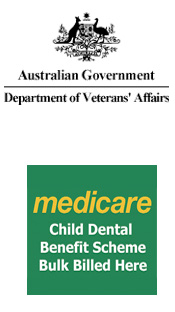 Modern Dentistry
Dentistry has come a long way in recent decades. We have quality, modern equipment and we keep up-to-date with the latest dentistry treatments.
We also keep pace with all changes in care regulations.
Bulk Billing
We bulk bill under the Medicare Child Dental Benefits Scheme to eligible children, so there are no out-of-pocket expenses to meet, up to a cap of $1000 for two years.
We also welcome Department of Veterans' Affairs patients and accept health vouchers.
Appointment Reminders
The day before your appointment we will call to provide a friendly reminder. If we can't reach you, we'll send a text message to your phone.